Cadillac reveals electric LYRIQ with light-up grille, active road noise cancellation
By John Huetter on 
GM was light on details about lightweight and crash protection within the body, and not all features seen on its show version will make the final cut. Wards Auto reported Thursday the car will come out in the 2023 model year.
But the announcement Thursday still matters to repairers as one of the recent harbingers of increased electrification repairers will encounter from General Motors and other OEMs.
"Led by LYRIQ, Cadillac will redefine American luxury over the next decade with a new portfolio of transformative EVs," General Motors North America President Steve Carlisle said in a statement Thursday. "We will deliver experiences that engage the senses, anticipate desires and enable our customers to go on extraordinary journeys."
Last week, GMC announced "its all-electric super truck" the HUMMER EV will enter production in fall 2021, with the OEM unveiling the vehicle this fall.
Two days later, GM announced it and partner EVgo would add more than 2,700 fast chargers nationwide over the next five years, starting in 2021. EVgo already has 800 chargers nationwide, and GM wrote that the 2,700 fast chargers is meant "to help accelerate widespread electric vehicle adoption."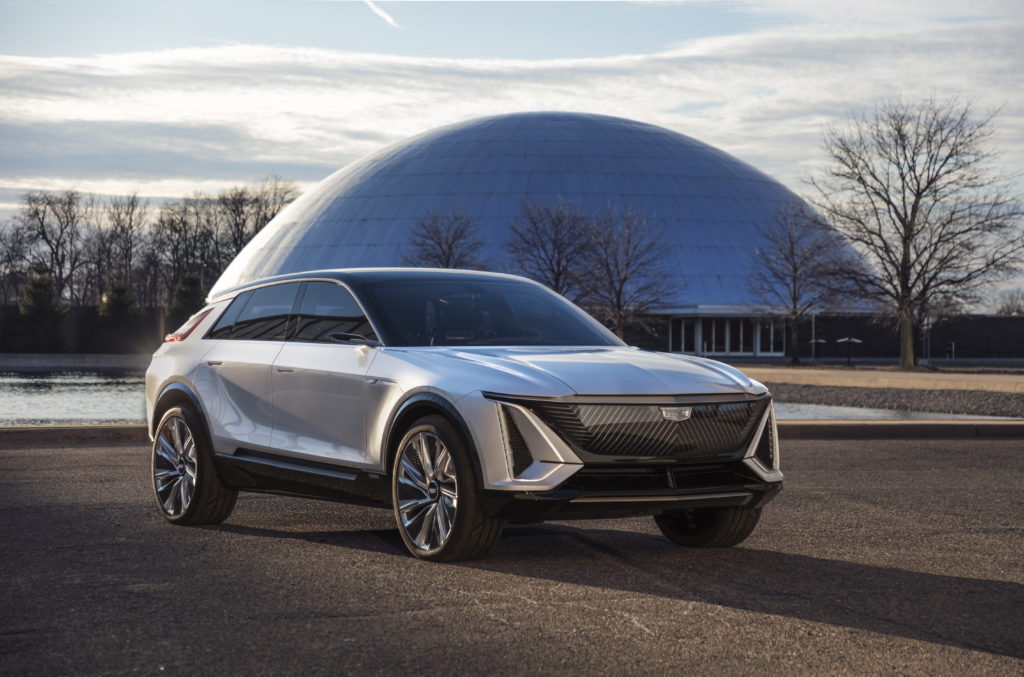 Meanwhile, Jörg Trampler, ZF head of North America Engineering Center powertrain technology segment, said Tuesday his Tier 1 transmission company is no longer developing technology for conventional internal combustion engines.
"This is a historic shift," he said during the Center for Automotive Research's virtual Management Briefing Sessions. Every powertrain ZF develops going forward will be at least a mild hybrid, Trampler said.
He predicted that by 2030, 40 per cent of all new vehicles globally will be either a high-voltage hybrid or completely battery-powered. The remainder will be mild hybrids — which will have become mainstream — and internal combustion engines, he estimated.
Fellow CAR MBS panellist Dustin Krause, director of Volkswagen e-Mobility North America, said VW's partner Electrify America had established a charging network able to take a driver coast-to-coast today. He noted this was a far cry from having to charge at KOAs while working at Tesla during that OEM's early days.
LYRIQ features
Some LYRIQ body details were available Thursday — assuming all of them make the final cut when the crossover hits dealerships.
Cadillac will use a skateboard battery design, noting that doing so yielded benefits like a better ride and handling as well as more space for interior designers to tap. Obviously, this can have ramifications for collision repair not present in a traditional front-mounted engine.
"Cadillac's all-new, modular EV platform on which the LYRIQ is based is the foundation for its liberating performance," Cadillac wrote in a news release. "With a dedicated EV architecture, its design eliminates significant physical constraints associated with adapting electric propulsion within a conventional vehicle architecture, for an optimized design that supports greater driving range, an engaging driving experience and a new interpretation of passenger space.
"Within the LYRIQ, the Ultium battery system is a structural element of the architecture, integrated in ways that contribute to ride and handling, as well as safety. In fact, the lower center of gravity and near 50/50 weight distribution enabled by the placement of the battery pack results in a vehicle that's sporty, responsive and allows for spirited driving."
The battery pack comes in two sizes, according to a Cadillac video, and the OEM's news release described one battery size as able to reach more than 300 miles on a full charge. The default LYRIQ is rear-wheel drive, but the owner can opt for an all-wheel drive version with another drive unit in the front of the crossover.
The battery itself is nickel-cobalt-manganese-aluminium and uses far less of the rare-earth metal cobalt — representing a 70 per cent reduction in the current GM battery's cobalt.
"LYRIQ was conceived to make every journey exhilarating and leverages more than a century of innovation to drive the brand into a new era, while rewarding passengers with a more personal, connected and immersive experience," LYRIQ chief engineer Jamie Brewer said in a statement. "To do this we developed an architecture specifically for EVs.  It is not only an exceptional EV, but first and foremost a Cadillac."
The grille ought to be interesting for repairers. It lights up when the owner approaches, as does other exterior lighting.
"A distinctive 'black crystal' grille in the front is one of the LYRIQ's most unique and expressive design elements," Cadillac wrote. "It is also a dynamic feature, as it is part of a dramatic lighting choreography that — along with bold vertical, slim LED signature lighting — greets the owner upon approach. At the rear, a split taillamp design incorporates slim LEDs that are also integrated into the lighting choreography."
Other external features of note include a "flow-through roof spoiler" and what appears to be a two-tone paint option.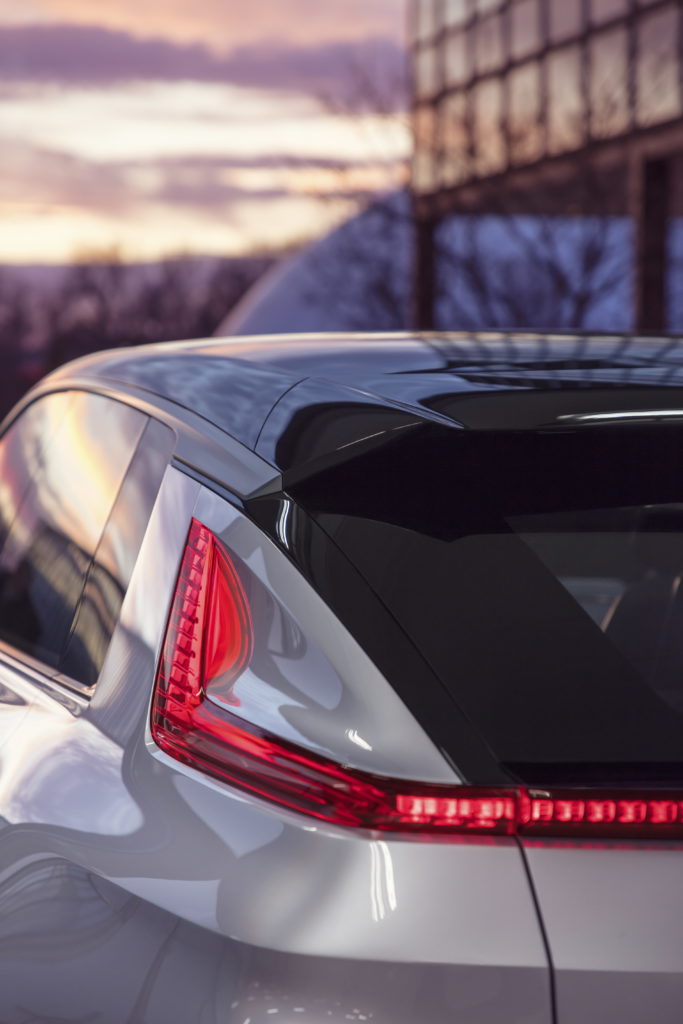 Though it's unclear where the devices will be housed, repairers might encounter a variety of mics and sensors. The OEM said it "takes active noise cancellation to the next level" with a new technology incorporating more microphones and accelerometers.
"With this new system, Cadillac's performance and audio engineers can target the frequency range of tire cavity noise, reducing the noise level in the vehicle and allowing for a quieter in-cabin experience," Cadillac wrote.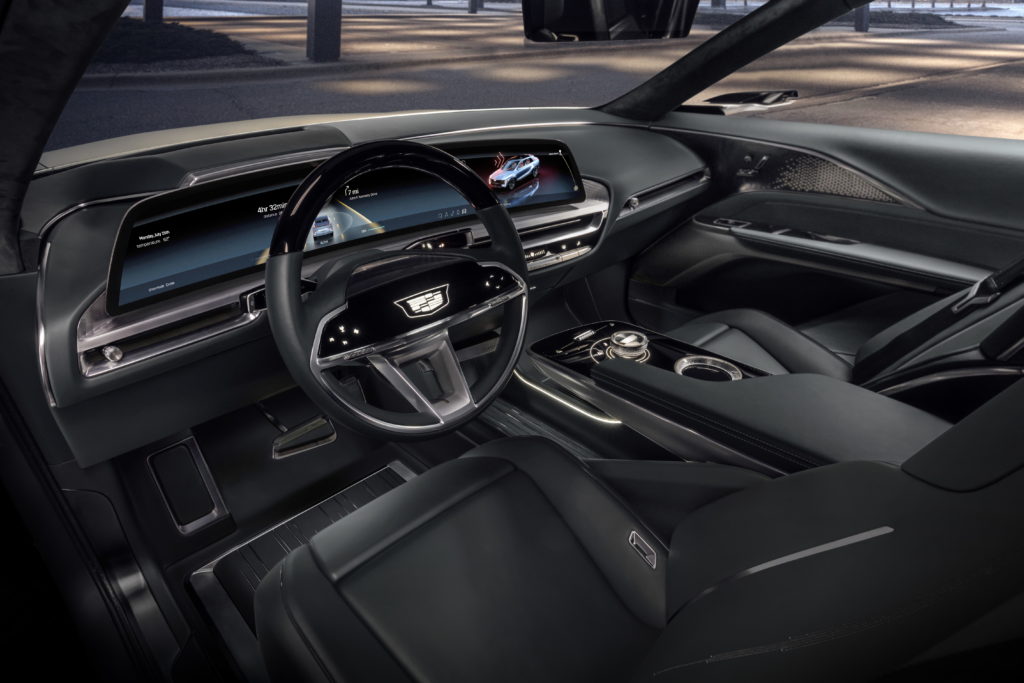 Other technology of note to repairers:
The dash has a gigantic LED display. It's a 33-inch diagonal able to display more than a billion colours.
Cadillac will offer a dual-plane head-up display.
The vehicle will offer the upgraded version of Super Cruise, which can change lanes by itself on demand.
The LYRIQ is expected to be able to parallel- and perpendicular-park itself using ultrasonic sensors.
"LYRIQ Show Car Leads Cadillac Into Electric Future"
Cadillac, Aug. 6, 2020
Images:
Cadillac on Aug. 6, 2020, revealed a version of its electric LYRIQ crossover. NOTE: Show car version pictured; not all features will make the final cut as shown. (Copyright General Motors)
Cadillac described an electric LYRIQ crossover with a "flow-through roof spoiler" in a news release on Aug. 8, 2020. NOTE: Show car version pictured; not all features will make final cut as shown. (Copyright General Motors)
Cadillac on Aug. 6, 2020, described an electric LYRIQ crossover with a 33-inch-diagonal LED screen on the dash. NOTE: Show car version pictured; not all features will make final cut as shown. (Copyright General Motors)